The official website for
Bandai Namco Entertainment
's Super Robot Wars X-Ω smartphone
game
revealed
on Tuesday that it will add the original Daizyujin (known as Megazord and retroactively as Dino Megazord in English) from Kyōryū Sentai Zyuranger, the series adapted into the first season of Saban's Mighty Morphin Power Rangers. The robot will be available for a limited time as part of an event in the game in May. Megazord's appearance will mark the first time that a robot from the Super Sentai
franchise
or any live-action special-effects television series is available in the game.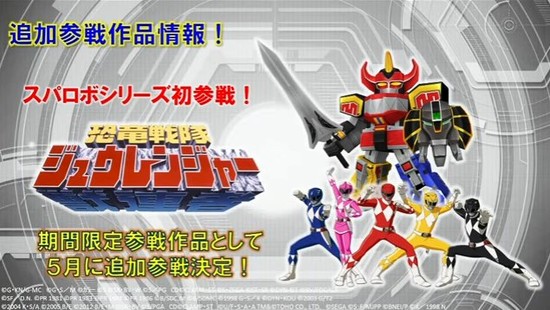 To mark the announcement, the game's official Twitter account is
holding
a campaign from April 26 to May 26. People who follow the account and retweet the campaign tweet will be eligible to receive a Soul of Chogokin Daizyujin
toy
, which will go on sale in Japan on April 29.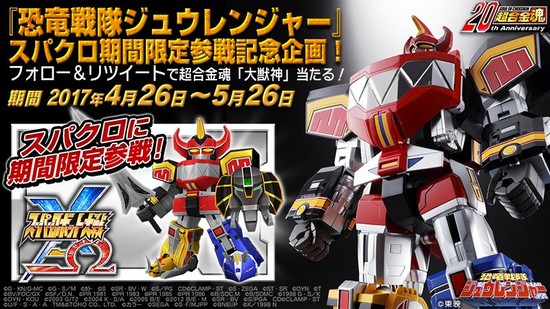 The website also announced that characters and
mecha
from
Getter Robo Go
and
Jūsō Kikō Dancouga Nova
will appear in the game as part of the event.
Mujin Gattai Kisaragi
and
Harukaiser from
The IDOLM@STER
anime
appeared
as part of a limited-time event in February. The game also
added
Kantam Robo from the
Crayon Shin-chan
television anime series last year as a limited-time offer.
Bandai Namco Entertainment released the smartphone game on iOS and Android devices in October 2015. The robot action RPG features a crossover story with a new scenario written just for the game.
The game features characters and mecha from 50 works:
Full Metal Panic! (original novel version)
Code Geass: Oz The Reflection
Additionally, the game
features
two original characters and an original mecha.
Bandai Namco Entertainment produced the app,
Sega
Games' Sega Networks Company developed it, and B.B. Studio supervised and wrote the scenarios.