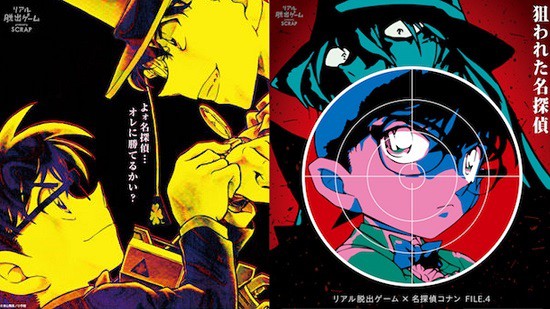 The Japanese company Real Escape Game will be celebrating its 10th anniversary and the fifth anniversary of its collaborations with the
Detective Conan
(Case Closed) series by creating a new Detective Conan escape game based entirely on fan input. The company has
opened
polls on the Japanese version of its official website to let fans make their voices heard.
An escape game is an interactive activity where participants are locked in a room with a group of people and must figure out how to escape. The characters appearing in the new Detective Conan-themed escape game will be chosen by popular vote, and the company will also be asking for ideas for puzzle solutions and new original goods.
For the time being, Real Escape Game is only polling for interest in such an event. If enough fans vote that they would like a fan input-based game to be made, then the company will move forward with the project. According to the company website, if there isn't enough interest, they'll go back to square one.
Real Escape Game was
inspired
by the free point-and-click video game "Crimson Room," which was released in 2004, and created their first real-life escape game in 2007. The company was founded in Japan, but they currently have locations worldwide, including Taiwan, Singapore, Shanghai, the United States, Canada, and Spain.
Real Escape Game has also done collaborations with
Final Fantasy IX
, the
Legend of Zelda
,
Attack on Titan
, and
Resident Evil
. The escape games "Final Fantasy IX: Trials of Bahamut", "Defenders of the Triforce", and "Attack on Titan: Castle Under Siege" are currently
available
at select locations in the United States and Canada.
Fans can also
experience
a Detective Conan themed escape room at
Universal Studios Japan
as part of the
event
Universal
Cool Japan
2017 until June 25 alongside the
Evangelion
XR Ride, Godzilla the Real 4D, Attack on Titan the Real 4D 2, and Monster Hunter the Real attractions.
The 21st Detective Conan
film
,
Meitantei Conan Kara Kurenai no Love Letter
(Detective Conan: Crimson Love Letter),
opens
in Japan on April 15