Manga Entertainment
announced
that it will release the We Are X documentary
film
, about the band
X Japan
, to UK cinemas on March 2, following a premiere on February 28. A home release will follow on May 1.
The film's UK premiere on February 28 will be at Picturehouse Central in London, followed by a one-night UK cinema release on March 2 'with encore screenings', and a home release on May 1 in Blu-ray, DVD and On Demand formats.
In addition, the soundtrack will be released on March 3 by
Sony
Music's Legacy Recordings, a day before X Japan appears live at Wembley on March 4.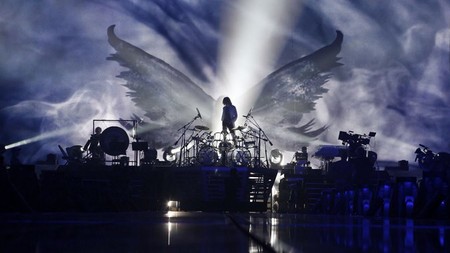 Stephen Kijak (Scott Walker: 30 Century Man, Stones In Exile) directed the film, and John Battsek (Searching For Sugarman, The Imposter) served as the producer. Mako Kamitsuna (The World Made Straight, Blackhat) and John Maringouin (Big River Man, Running Stumbled) edited the documentary.
The documentary chronicles the career of X Japan, and
won
Sundance Film Festival Awards' Special Jury Award for Best Editing. The band was formed by
YOSHIKI
and Toshi formed in 1982 as X. Over the next 13 years, X Japan released five studio albums, six live albums, 10 best hit albums, and 20 DVD releases. The band disbanded in 1997 but
reunited
in 2007. Original lead guitarist
hide
and
bassist
Taiji Sawada passed away in 1998 and 2011, respectively. The band has sold more than 30 million albums (with singles and videos combined), and has sold out Japan's 55,000-seat
Tokyo Dome
18 times.
X Japan
toured
North America in 2010. They
signed
a three-year contract with EMI Music North America in 2011, and released their first North American single "Jade" that same year. The band's single "Scarlet Love Song" was used as the theme song for the anime film
Buddha: The Great Departure
. The band's music was also used as the ending theme for the X anime film and
X - X2 double X
original video anime