Anime Limited
announced the following acquisitions at the MCM London Comic Con:
-
Silver Spoon
, format hopefully to be confirmed soon.
-
Rokka: Braves of the Six Flowers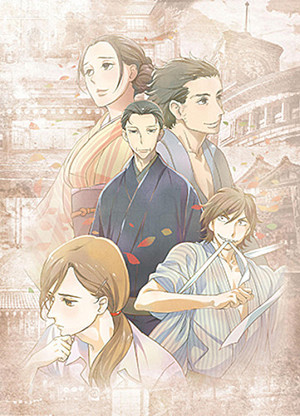 -
Shōwa Genroku Rakugo Shinjū
(pictured right)
-
Tenchi Muyo GXP
(listed as appearing under
Funimation
label.)
-
Dagashi Kashi
(listed as appearing under Funimation label.)
The
Fullmetal Alchemist
Ultimate Edition has been slightly delayed, but should be shipped within the next couple of weeks.
Re the
Eden of the East
Collectors Edition, it will now include the two feature films,
Eden of the East: The King of Eden
and
Eden of the East: Paradise Lost
. Anyone who has already received the Anime Limited edition early can send proof of purchase to Anime Limited to receive the films when they become available.
Re
Evangelion: 1.0 You Are [Not] Alone
, Anime Limited expressed a hope that it could release more
Evangelion
in future, such as the original television series, but stressed it was just a hope