The Japanese opening sequence for this year's Lupin III anime, the first new television series in three decades to star the titular character, debuted online before its October 1 premiere in Japan. The sequence
features
a new 2015 version of the classic "Theme From Lupin III" song by original composer
Yuji Ohno
.
Text: My name is Lupin III
Lupin: I'm stealing back what's already been stolen, that's all.
Jigen: Word of advice, pointing a gun at me is...
Goemon: Until I've paid back my debt, I will protect you.
Fujiko: Which do you prefer?
Zenigata: I won't let you get away until I die, Lupin!
Rebecca: Because I'm your wife! I'm Mrs. Lupin!
Lupin: Lupin III
Lupin: I'll take what I claim!
The story of the new series takes place in Italy and San Marino, and it features a blue-jacketed Lupin in his 20s. The series
open
with an invitation to Lupin's wedding to a new character named Rebecca (
played
by
Yukiyo Fujii
).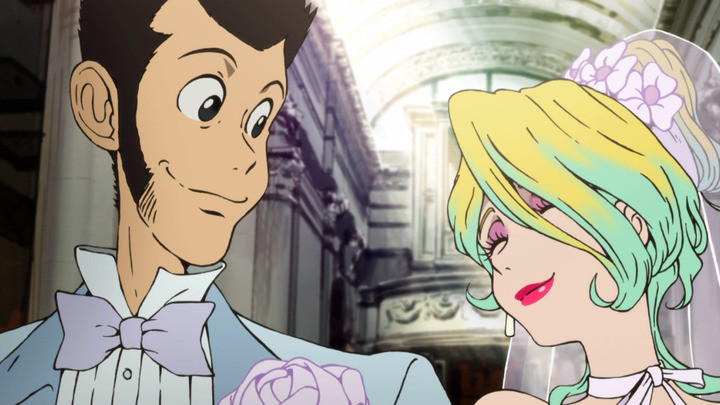 Rebecca is the young president of a conglomerate based in the Republic of San Marino, the story's setting. She has also worked as a model and an actress, and has become an international "gossip queen" due to rumors of affairs with many celebrities. She has an independent wild streak, as well as a secret she cannot tell anyone. Another new
character
, Nyx (
Shunsuke Sakuya
), is an ace spy with a license to kill for MI6, the real-life Secret Intelligence Service of the British Government.
Tomonaga noted that the Lupin III anime that his generation watched four decades ago was completely different from the previous anime aimed at children. He added that it had a very huge impact on the diehard adult fanbase. For the generation that already experienced that amazement as well as the generation unaware of those days, Tomonaga wants to make an exciting animation that is realistic yet sprinkled with fantastic elements. Furthermore, he wants to depict a Lupin in which conflicting elements coexist — hard-boiled yet comical, cool yet tongue-in-cheek.
The 24-episode anime
premiered
as
Lupin III - L'avventura Italiana
on Italian television on the
Italia 1
channel on August 29. It will premiere on Japanese late-night television on
NTV
and other stations on Thursday, October 1 at 26:40 (effectively Friday, October 2 at 2:40 a.m.)